How to Setup the 2020 Golf Hitting Net
Setting up the 1m, 2m, 3m Golf Net Video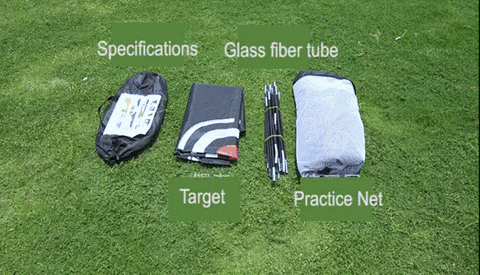 Practice Your Golf Swing - Save Time & Money!
Using a golf net to work on your swing is an excellent way to get in some practice time without having to spend a lot of money on range balls, not to mention the time saved from the wrong kind of driving!
Setting the 1m, 2m or 3m basic golf practice net up is a pretty easy process and takes about 5-10 minutes. 
Most of the sets will come with instructions, but if not, you can watch the video below of someone setting the bigger 10-foot golf hitting net. 
**** NEED MORE HELP?  If you have any questions about getting your new golf net setup or how to get replacement parts, contact us today and we can help. 
The setup of this Golf Net is Easy! Some of its main features are
1= Foldable
2= Portable
3= Space saving
This net is easy to assemble and takes very little time to fold down. It comes with a polyester carry bag for convenient storage and easy transportation. Its perfect for indoor and outdoor use.
GET A NEW GOLF NET TODAY 
Golf Net (1 Meter) = $59.99 *** This is a small net not meant for driving
Golf Net (2 Meter) = $ 79.99 ** This net is 6 feet wide and 4.5 feet high
Golf Net (3 Meter) = $119.99 ** This net is 10 feet wide and 6.5 feet high
Take Advantage of our 30-Day Money-Back Guarantee and hit the green and target with every shot by utilizing The Golfing Eagles Practice Golf Net. 
NEW GOLF NET BUNDLES
We have many golf hitting net bundles that also include a golf mat, practice balls and tees. 
⛳ 2M Golf Net, 30x60 Mat & Practice Balls - $109
⛳ 3m Golf Net, Tri Turf Golf Mat & Practice Balls - $159
⛳ 3m Golf Net & 3x3 Foot Golf Mat with tees & balls ($199) ** 10 Foot Golf Net with bigger 36x36 inch Golf Mat with Rubber Tee
⛳ 3m Premium Golf Net & 3x5 Golf Mat, Balls & Tees ($269) ** 10 Foot Deluxe Golf Net & Bigger Thicker Golf Mat

⛳️  Satisfaction Guaranteed With Every Order ⛳️