Albatross Meaning - What is Albatross in Golf?
Scoring in golf can be confusing if you don't play golf all the time, but there are certain terms seasoned golfers don't know the meaning of, like an Albatross!
An albatross in golf is achieved when a player either aces a par 4, or scores a "2" on a par 5.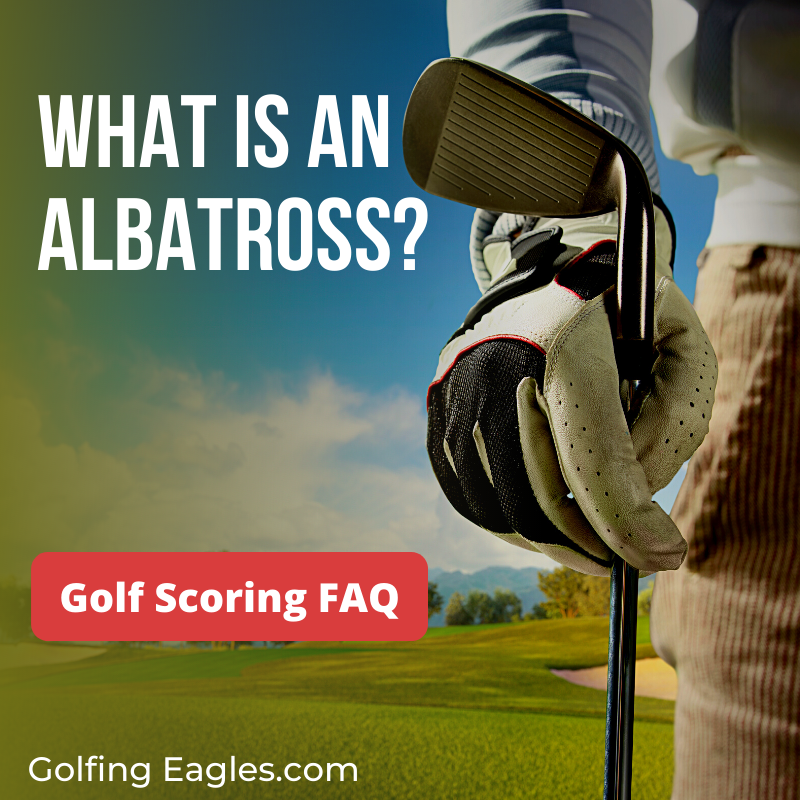 While a birdie is 1-under par on a hole and an eagle is 2-under par, a step better than that is an albatross, which is 3-under par on a hole.
So if you somehow chipped in or hit a long 2nd shot on a shorter par 5, most people call it a double eagle, but you could also call it an Albatross!
Either way, it's super duper rare. 6 million to 1. Arnold Palmer has never had one on tour. Most modern day golfers in 2022 have never had one.
There have only been 18 in official PGA events and only 4 at The Masters, so yea it's kind of a big deal!
The Albatross is not even known by a lot of golfers. A lot of golfers don't even know it exists as a term!
Actually, the Albatross is SO unlikely that you are more likely to get struck by lightning (550,000 to 1)!! If you are golfing on a rainy day, both are possible though! 
So what does an Albatross mean in golf? It means you are most likely really good at golf, and a really lucky person! 
Is A Double Eagle the Same as an Albatross?
YES!
An albatross, also known as a "double eagle", is a golf score of three-under-par on a single hole. This is most commonly achieved with two shots in the hole on a par-5, but can be done with a hole-in-one on a par-4.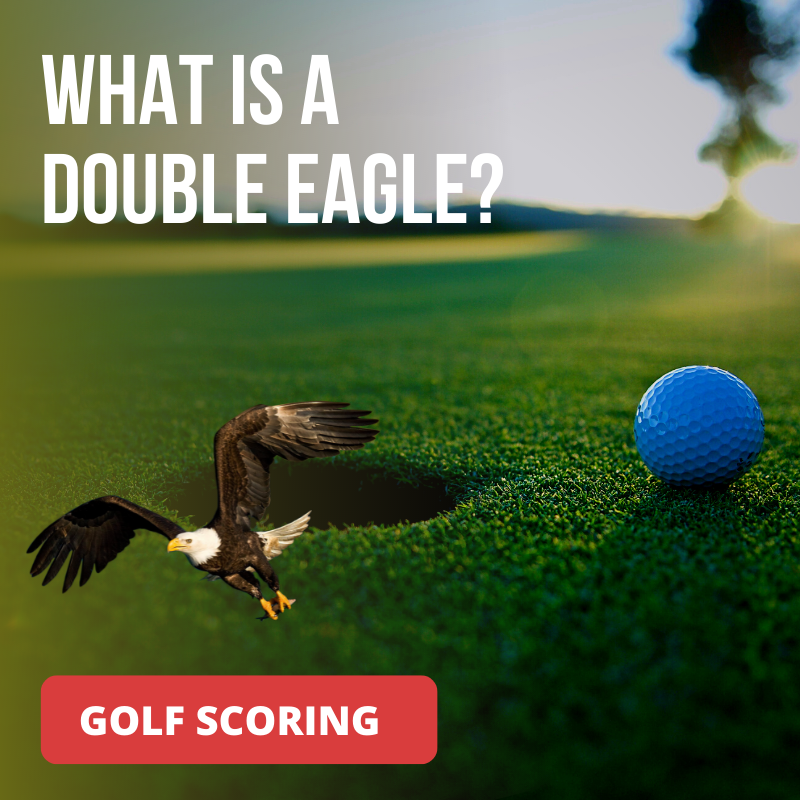 How Rare is an Albatross in Golf?
It depends on who you talk with you and a few factors, but the general thought is that it's about 6 million to 1!
They're definitely far rarer than aces, aka a hole in one.
They say there are only a couple of hundred of Albatrosses scored each year on the golf course, while there are over 40,000 hole in one aces recorded. That's a big difference and really shows you how tough it is.
That makes your chances of becoming one of the 200 or so golfers a year to make an albatross better than the odds of being killed by a shark (1 in 350 million) but worse than being struck by lightning (one in 555,000).
Is the Albatross Harder to Get then a hole-in-one?
YES! By Far. I thought it was probably about the same, or a little rarer. Yet no, the Albatross or double eagle is way rarer.
They say the odds of a hole in one is about 12,000 to 1. (It feels like a billion to one to me!)
Yet it's 6 million to one for the super duper tough Albatross.
Did Tiger Woods ever hit an albatross?
NO! Not officially on tour, but I'm betting he has many of these golf shots on his own.
Although Tiger has never recorded an albatross on TOUR, his closest call came in 2015 at the Waste Management Phoenix Open, which was won by Brooks Koepka. After a 329-yard drive, Tiger hit his second shot just 7 inches from the pin for a tap-in eagle. So close to the albatross!
Not many players have been inducted into the double eagle club, I mean with 18 total, that leaves a lot of great players out of that exclusive club.
Like how could Tiger Woods not be in it?!! Louis Oosthuizen is in that club and he has that going for him!
How Many Albatross Shots Have Happened in Golf Majors
In the four major PGA championship tournaments, it has only happened 18 times since 1870, according to GolfLink.
You would think that in all of the years of golf being played, that more golfers would have been able to get that golf ball in the hole in 1 or two shots.
Three strokes under par is tough and you would have a better chance of getting it on a short par 4, versus the longer par 5 holes on most golf courses.How many Albatrosses Have Happened in Masters Golf History?
FORE!
A grand total of four double eagles (albatrosses) have been recorded by pga tour professional golfers in the entire history of The Master's Tournament, which dates to 1934.
Those four double eagles have each happened on a different hole — no one hole at Augusta National Golf Club has yet seen a second albatross. This is how rare they are!
Jack Nicklaus doesn't have one, nor do Mr. Tiger Woods or a lot of other professional golfers on the PGA tour. So few have happened in a Pga championship, so that shows how tough it is.
When a professional golfer cant get the albatross, then the average golfer or amateur golfers have no chance at all. The double eagle is really the rarest shot ever and it's just exceedingly rare to get three strokes under par.
Who got the First Albatross in a Major Tournament?
Gene Sarazen in 1935 at the Masters Tournament. "The golf shot heard 'round the world"!
Sarazen hit what could be the best golf shot ever at Augusta National Golf Club on the fifteenth hole in the final round of the Masters Tournament in 1935.
He struck a spoon (the loft of the modern four wood) 232 yards (212 m) into the hole, scoring a double eagle. (AKA an Albatross)
At the time he was trailing Craig Wood by three shots, and was then tied with him. He parred the 16th, 17th and 18th holes to preserve the tie. The following day, the pair played a 36-hole playoff, with Sarazen winning by five shots.
The Sarazen Bridge, approaching the left side of the 15th green, was named in 1955 to commemorate the double eagle's twentieth anniversary, which included a contest to duplicate, with the closest just over 4 feet away.
This would be the most notable albatrosses ever and its a rare feat that might not be duplicated. Getting two eagles in a round is rare, but getting the double eagle is really special.
Getting an Albatross is One of the rarest Sporting Achievements
In conclusion, getting an Albatross is such a rare feat, we never hear about it, so most people dont even know it exists.
I am a Carl from Caddyshack type of amateur golfer who doesn't play at bay hill or qualify for major PGA championships, and sure I hit plenty of errant shots, but I have a lot of good golf shots and maybe one day....
It seems pretty possible if you have a short par that you can drive. Then its just like a hole in one, just a little longer. Its on my list of things to do along with the 300 game in bowling!
Could There Be Something Better Than the Albatross?? What is the Condor?
The Albatross is not quite the CONDOR, but that's a story for another golf scoring post and also another level! Its the rarest of all the golf feats, it's actually 4 under par, no way!! WAY.
Read other Golf Scoring Posts

What is an Eagle in Golf?

What is a Birdie in Golf?

What is a Par in Golf?
Visit The Golfing Eagles for all of your golf training and golf gift needs.
We have a variety of golf gifts, golf nets, golf cages, putting greens, and other golf training products for the home.
You gotta practice your golf swing so you can one day get an albatross/double eagle!
🏌️‍♂️Top 9 Office Putting Sets
🏌️‍♂️ How Many Golf Clubs go in a Golf Bag?
⛳ Top Christmas Golf Gifts